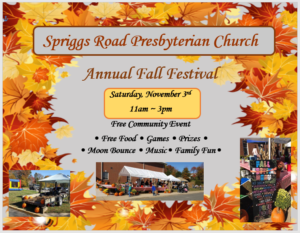 *Set up for the Festival, we will begin at 9am on Saturday, Nov. 3. We can always use more volunteers.
*If there is rain forecasted for Saturday, then we will need to move chairs out of the Sanctuary on Friday night. If you are available on Friday in the event that we need to do that, please let Gina Powell know.
*Desserts for the Dessert Auction should be delivered by 11am on Saturday, Nov. 3.
*Cookies or brownies for the Food Table—be sure to pack 1 cookie or 1 brownie per snack-sized ziplock bag and bring them to church on Saturday, Nov. 3 by 11am.
*Each family is also asked to bring 1-2 packs of soda for the festival. Please place the soda in the kitchen.
*Be sure to invite friends and neighbors to the festival! Like and share the event on social media as well.